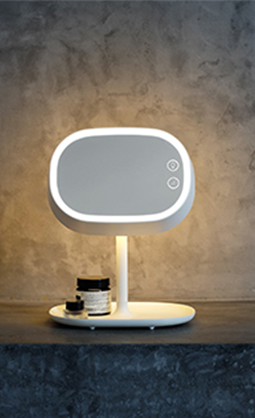 Three in one: The Makeup Mirror has been designed by a professional make-up artist. In order to design this amazing product, this creative artist has identified three of most important and basic elements you need at the time of doing your make-up; A mirror, a great light and of course, a space where to place the makeup you are using. All these three elements have been combined to create The Make Up Mirror.
Adjustment: The Mirror lamp has a special flexible rotation axis that can be adjusted by 180 degree rotation.
Storage Space: The base has a storage function with a silicone pad, which prevents the objects you placed on from sliding on the table. The additional storage space allows you to free your desk from any clutter, making it look tidier.
Adjustable brightness by touch switch: The brightness of the light is completely adjustable, which is as convenient as adjusting the brightness of the mobile phone screen with a simple touch.
Charging specifications: This product is USB rechargeable. It can be used be used from 4 to 5 hours after 4 hours charging.
Packaging Details: We are using imported environmentally-friendly \"kraft paper\", which is nice to the touch. The quick-installation guide is already printed on the packaging, which helps to reduce even more the waste of material.