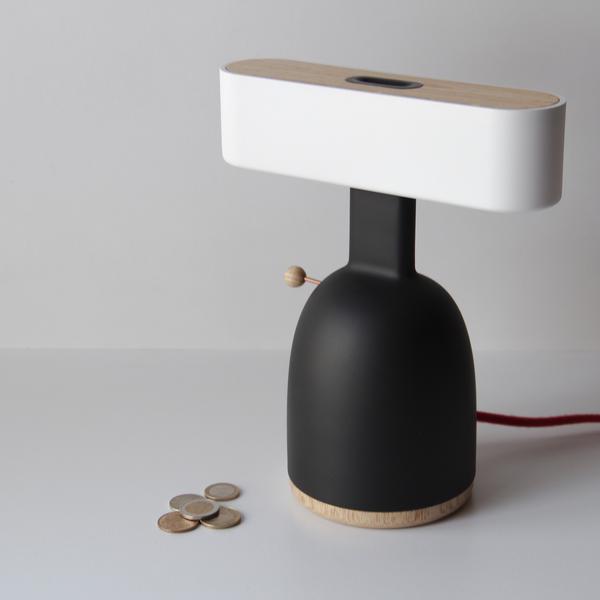 Awareness Raising Money Saving Lamp
We have become light dependents and without it we would have long, sad and in-officious nights, but we have forgotten that it is a resource that we must pay for and we even misspend. What if a lamp helps us to be aware of the value of light, energy, and money? DINA needs money to activate, coins are the ones who transmit power to let it shine. It is more than just a lamp; it is a different way to light up our consciousness.

Energy awareness
CoinLamp helps you to become more aware of your electricity use. Since our climate is changing, it's important to pay attention to the little things that we can do. CoinLamp is a tribute to our planet and supports reducing unnecessary energy usage.

Activation by coins
When you insert a coin into the slot at the top of the lamp, the lamp lights up. So every time you hear the coin drop, you will become aware of electricity costs.

Large and medium sized coins
Not all coins can turn it on. It only works with large and medium size coins, which usually represent the highest denomination in most currencies. Small coins do not manage to make the necessary contact to turn on the light.

Save money
By switching off the lamp, the coin will drop and you will hear it falling into the body of the lamp. Again, you become aware of the value of light and it saves your money like a piggy bank.
Reminding you to live sustainable and be conservative with nature's resources.
Specifications
DH0131/CLDINA
Input port: USB-C
Power input: DC 5V 1A

Light output: 250lm
Color temperature: 3000K

Light color: Warm

CRI: ≥60

Included: USB cable

USB cable plug type: 

USB type A to C
People often buy
Total price:
$111.85
$119.85