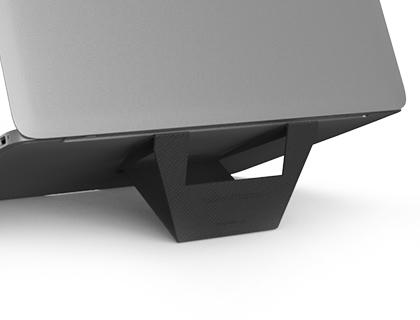 Universal laptop stand with better air flow 
FoldStand Laptop big in ease, small in use!
The FoldStand Laptop is easy to attach to your laptop, removable and reusable! With the adhesive side you simply stick the FoldStand on the bottom of your laptop. If your laptop has a vent, place the FoldStand under the vent. After you remove the stand, you can use the stand again with the same good adhesion.

It's super easy to use the FoldStand stand; in one second you can open and close it. You won't have any frustration when packing and unpacking the device because the FoldStand Laptop is attached to your laptop, giving you the same mobility as you are used to. FoldStand has been developed to fold in and out. Unfold the stand for the ideal working height and comfort for a healthy posture behind your desk.

With a weight of 65.7 grams and a thickness of 3.04 mm, the FoldStand is barely noticeable on the bottom of your laptop. You could just forget that you are carrying FoldSand with you. With this stand on your laptop, it even fits easily in your laptop sleeve or laptop bag. Thanks to the anti-slip material, your laptop will not slip.

The FoldStand Laptop is reusable. Wash it and use it again. The FoldStand's stainless steel core dissipates heat from your laptop to help cool it down.
Specifications
Compatible with: All laptops
Material: PU
Angle: 25°
Thickness: 0.2cm