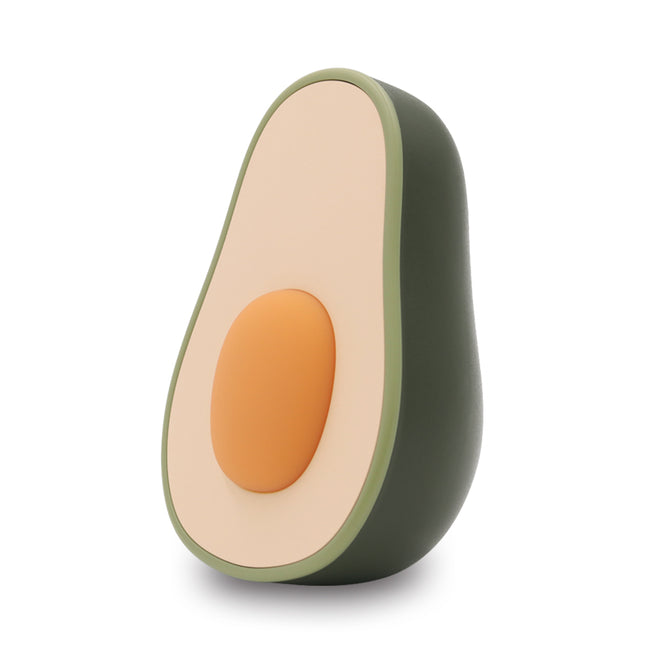 Comforting and Warming Avocado Friend

With its ergonomic shape, avocado suits every spot, whether it is your hand, your neck or your belly. Charge it for 1.5 hours to enjoy warmth for three hours. Comfortable on the go, wearing it in your pocket or any place you want to warm up. Or use it at home under a blanket. It is made of aluminum to preserve the heat, and it has an automatic protection function to prevent overheating. To switch on or off simply press the soft silicone avocado pit. Great gift for anyone who loves avocado.

SOFT SILICON SURFACE WARM YOUR COLD HANDS
Allows you to get warm hands on cold days in a short time. The avocado pit switch made of silicon gel is smooth to the touch. The aluminum housing provides fast and even heat dissipation.

HIGHER TEMPERATURE IN A SHORT TIME
After powering on, the temperature goes up to 107.6°F within 2 minutes, then it will continue to heat up to 136°F. Its overheating prevention feature will automatically turn off the heating for protection.

USB-C RECHARGEABLE
Its 4000mAh large capacity lithium battery is rechargeable with USB-C cable for fast charging.

AVOCADO PIT IS THE SWITCH
The avocado pit is a switch that can be turned ON/OFF by clicking it. When turned ON, the avocado pit will softly bright up.

SMALL AND PORTABLE
Its hand size makes it possible to take it with you on the go, and enables you to enjoy the warmth conveniently anywhere. It lasts a few hours when fully charged.
Specifications
Internal Battery: Lithium Polymer batteries included
Plug Type: USB-C