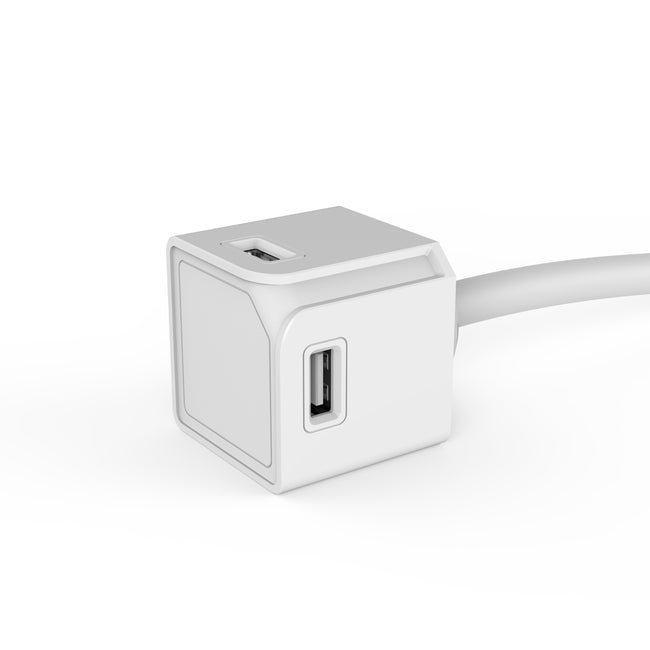 Compact 4 Ports USB Adapter with Cubic Design
This is the most compact multi-USB wall charger. 4x USB-A ports allow you to charge up to 4 devices on each side of the cube simultaneously. Compatible with any charging cables that utilise USB-A to charge any smartphones, tablets, camera and other small USB devices.
Save space and weight on the go
Charge up to four devices, one on each side of the USBcube. You will save a lot of space in your bag or suitcase because you can leave your phone charger and laptop adapter home.

USB Type-C laptop charging
Charge your USB-C laptop directly with the cube. No need to bring the original and bulky adapter of your laptop anymore.

Various models
A diverse range of models are available to meet different needs. Choose between Original and Extended models, with four USB type A ports or with four with USB type C ports or two of both types A and C. You can also choose the plug that is used in your desired country.

Extended version
With the extended version you acquire 3 meters (10ft) of extra cable length. Ideal for situations where the power outlet is far away: at a cafe, the airport, at home on the couch or in the hotel room.  
Specifications
No. USB-outlets: 4x USB-A
USB output: 5V 3A (each 3A Max)
Electronic Device Plug type: Type A
Cable length: 1.5m
Cable thickness: 2x0.5mm²
Power input: 100-240V~ 50/60Hz 0.4A
Safety measures: Short circuit protection, overcurrent protection, overvoltage protection
Power: 15W