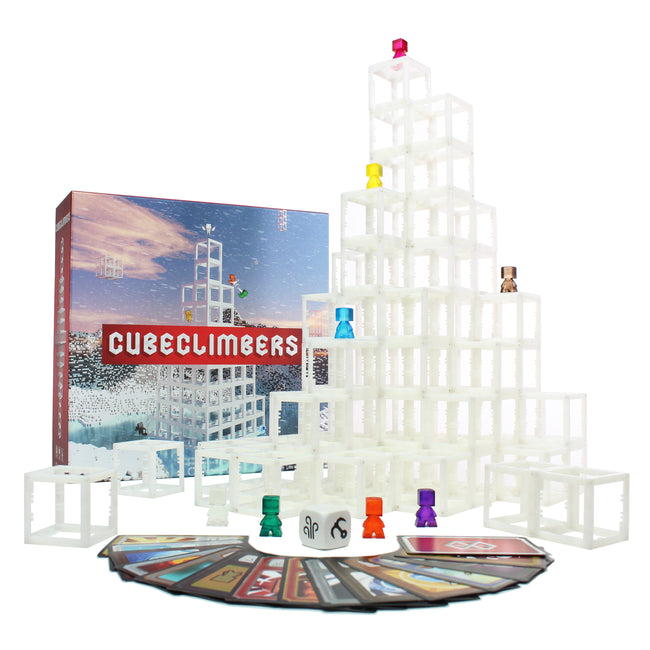 CubeClimbers is a 20-30 minute strategy game for 2-4 players where the objective is to become king of the hill by stacking cubes, pushing opponents, tossing grappling hooks, and using superpowers. The cubes in this game magnetically snap together for a modular and sturdy 3D board. Although the rules are simple, climbing to the top requires creativity, tactics, precision, diplomacy, and risk-taking.

Setup: Players start on a base of prearranged cubes. Each player is then dealt an even and equal number of the remaining cubes. Players are also dealt a combination of 2 unique player powers face down that can each be used once a game.

Play: During their turn, players build 2 cubes, move to an adjacent space, and roll. Rolling gives players a chance to reposition with the grappling hook (1/2 chance) or push all players in a direction of their choice with wind (1/6 chance). Players must perform all three actions once in any order to end their turn and may also use their powers as optional actions. The game keeps going until the player who builds the last remaining cube ends their turn.

Winning: The player at the highest level of the board when the game ends wins!

Features:
2-4 players, 20-30 minutes per game
Play on a dynamic 3D mountain made of magnetic building blocks
Move and build tactically to climb and block your opponents
Use superpowers for game-changing turns! Over 100 asymmetric player power combinations
Amazing table presence— each game ends with a unique sculpture
3 Simple rules (move, build, and roll) with endless depth and strategy
The player at the highest level once all cubes are built wins!
CubeClimbers is a perfect fit for those who enjoy board games like Backgammon, Chess, Santorini, Torres, Rhino Hero, or games with unique components.
Components:
68 MagnetCubes (White)
16 Power Cards
8 Climbers
4 Stands
1 Die
1 Rulebook
*Images and videos shown are of prototypes. Final product will vary slightly.