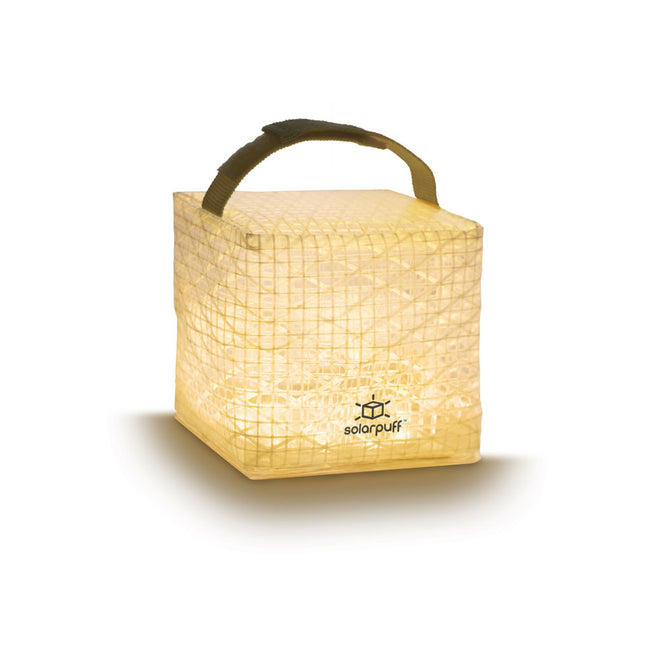 The cubical, portable and waterproof solar light
The award-winning best original origami influenced design of Solight Design's flagship solar light has been recognized on CNBC, TED Talk, Wire Magazine, Fast Company, and Forbes.
Elegant • Versatile • Innovative • Portable • Lightweight • Eco-Friendly

The SolarCube |SolarPuff| is the first of it's kind; solar-powered and engineered to be collapsible with a self-inflating pull open design, waterproof, portable and lightweight, yet durable even in extreme weather- perfect for the travel, outdoor adventures, camping, backyard patio, home décor or emergency kits.

Beautiful bright light is evenly diffused by the recyclable PET sailcloth for a unique, clean, bright white light that's perfect for any occasion, or bask in the soft, golden, ambient glow that will set the perfect mood.

Up to 6-12 hrs of light on full charge
Features
Take it on the go
Great for the hiker, camper, or just the traveler in general.
SolarCube is rugged, portable, waterproof, dustproof, collapsible, lightweight and rechargeable. Have fun on your next travel adventure!

Safe for children
Made from non-toxic materials, making it safe for children. Recyclable and eco-friendly, these solar lanterns are not only beautiful energy saving lights, but will help to keep our planet cleaner for generations to come.

Extra light in the dark
SolarCube is elegant, versatile and stylish to also bring light in the darkness. Capture the warmth of the sun by day and illuminate your world by night.

For the whole family in every occasion
SolarCubes are perfect for creating beautiful, soft ambiance around your table, patio, living area or in a child room. There's a light for everyone and every occasion. Increase a good atmosphere with the SolarCube.

Save the environment
If for example everyone in the United States used a SolarCube for just one hour a day instead of a regular light bulb... it would save over 11 BILLION tons of CO2 emissions annually.

Sustainable and for the humanity
SolarCube distributes lights in regions of extreme poverty, where people are most vulnerable. Working alongside communities and women in local villages, the company works to create economic opportunities for long-term sustainability

For indoors and outdoors
SolarCube keeps a minimum 50% battery charge even after 2 years in storage! Lightweight, compact, collapsible, waterproof and portable. This solar lantern is perfect to use outdoors and also an addition to any emergency kit for at home or in the car.
Specifications
Dimension:

Expanded: 4.3 inch /10.9 cm cube
Collapsed: 20.9 x 11.4 x 1.27 cm

Material: PVC-free PET
Light color: 10 Warm white LEDs
Light mode: Low Medium High Flashing
Charging time: Fully charged with 8hrs of sunlight
Solar Panel: 160mA 5V
Waterproof: Yes
Weight: 0.11lbs
People often buy
Total price:
$121.85
$129.85