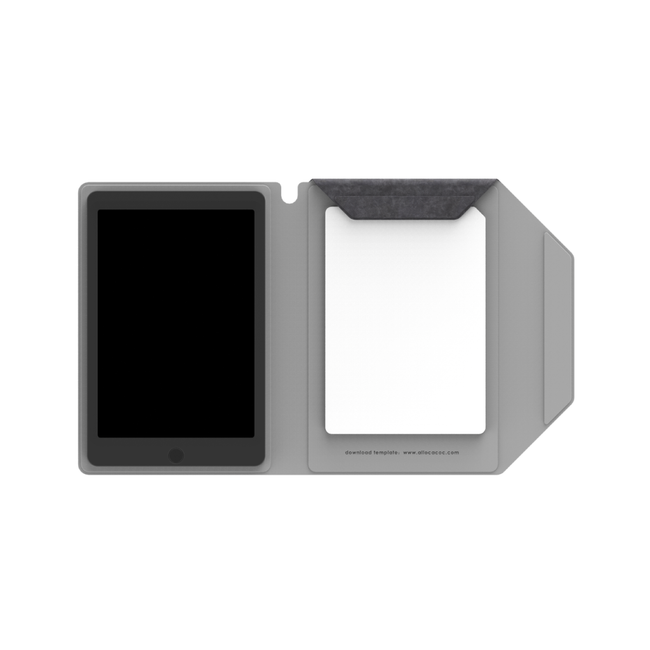 Refillable Notebook with E-ink Writing Notepad
The ModularNotebook |e-ink| is a refillable notebook plus an e-ink notepad to use for a lifetime. With embedded magnets, the notebook securely holds the e-ink notepad and all your important notes in place. It also allows you to replace papers with ease. A hardcover gives you a smooth writing surface to make notes anywhere: on your soft bed, while standing or on your way to work. Use it as a notebook, journal, diary, message board, sketchbook, recipe holder, and more. The e-ink notepad comes with stylus pen. Need a fresh page? Double click the button. Need to edit your note? Long press the button, flip your stylus pen and use the rubber tip to erase any mistake, just like your regular pencil.
Double press to erase all notes
With a double-press of the button, you erase all the content.

Press and hold to erase notes
Made a little mistake? You can hold the button and erase specific parts.

Built-in magnet & stylus Dock
The notebook is embedded with magnets to keep the tablet and paper securely intact.

Compatible with A5 paper
Refill the ModularNotebook with A5 standard paper
Dimensions: L271 x W181 x H17.5 mm
Material: PU, ABS
Battery: CR2025
Battery Lifetime: 10000h (Replaceable)
Screen Lifetime: 50000 times
Included: E-ink notepad, stylus pen, A5 stripped papers (30 pages)
Available Color: Grey
Customer Reviews
02/09/2023
Anthony C.

United States
kind of cheap
this product pales in comparison to my original Allocacoc product. Shame really