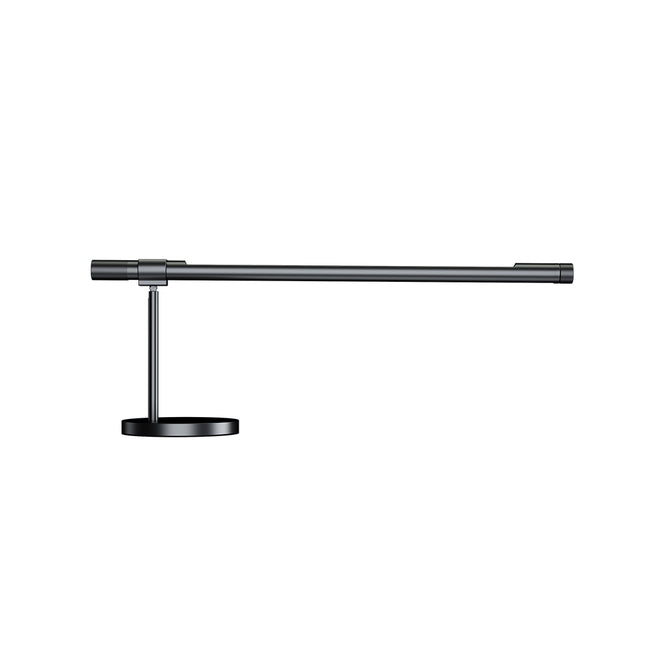 Touch and slide to turn on more LEDs
Touch & swipe controls to dim the light or extend the light strip
The LightStrip Touch has a unique way of controlling your light: slide along the top with your finger to illuminate more LEDs. This is a very natural feeling to adjust the light.
Freer, adjustable light angles with a flexible and modular stand
The joint allows for more flexibility: you can freely adjust the angle of the lampstand to optimally light your working area. You can also adjust the direction of the beam, which enables you to use indirect light to create a warmer atmosphere.
Transform it into an ambient light pillar
When you swipe the touch bar you can slide it until all the LEDs are lit and transform it into a desk lamp. Other varieties are also possible: when you fully erect the lamp body and reduce the brightness it can be used as an ambient light column.
Modular design
Extend the LightStrip with up to 2 extra LightStrips to create an extended desktop light or a unique hanging light.
The LightStrip is compatible with various modular fixtures and stands
The light strips can either be used standalone or combined and can be expanded to a maximum of three modules. With different brackets, they can be turned into wall lights, table lamps, bedside lamps, floor lamps or even chandeliers.
High-grade aluminum body
The aluminum alloy body feels sturdy and lightweight while providing a qualitative look.
Specifications
Dimensions: 5.70 x 5.70 x 24 in
Input port: USB-C, 12V DC port
Power input: DC 5V 2.0A, DC 12V 3.0A
Energy consumption: 8W
Material: Aluminum, ABS, PC
Light output: 800lm
LED: 2835 LED
Lifetime: 20,000h
Color temperature: 6500K<
Light color: Cool
CRI: 80
USB cable: USB type A to C; length: 1.5m; color: grey
People often buy
Total price:
$116.90
$124.90
Customer Reviews
WOW!
I bought the warm one and it is incredible. It's pretty easy to understand the concept of touching the strip to accommodate to the amount of light you want. It looks great in my desk and its good for afterhours when you want the general lights off.