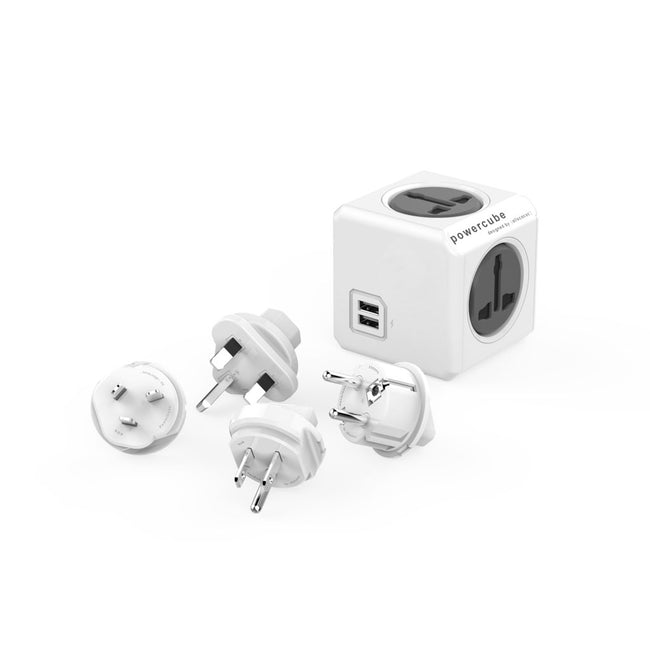 Multiple universal power sockets for worldwide travel
Use and recharge more devices at the same time
Traveling with your everyday devices along with their chargers can often be stressful and unorganized. The PowerCube's compact design makes traveling with technology much more convenient, having more sockets available at the same time.
Frequently used international adapters
Travel around the world without fussing about multiple adapters and charging your devices one after another. The set of additional plugs covers frequently traveled destinations. Included is a European, American, Chinese/Australian and United Kingdom adapter.
Specifications
Socket type: Universal
No. outlets: 4
Rated AC: MAX 10A/100-250V~
Childproof: No
Fuse: Yes
No. USB-outlets: 2
USB output: 2.1A 5V
Grounded: No
IEC port: IEC 60320 C14
Dustproof: Yes
Included: 4x Travel Plugs
Travel Plugs: Type A, E/F, G, I
Customer Reviews
11/10/2019
Kenneth L.

United States
Super useful to international travelers
I bought this a week ago and am already obsessed. I used it constantly on my trip to Ghana, where plugs are scarce to charge my phone, laptop, and camera all at once. I've already recommended to three friends. Literally the only downside is the size of the cube (assume limited by hardware needs) and lack of carrying case (which I solved with another bag) but otherwise I'm in love with this product.