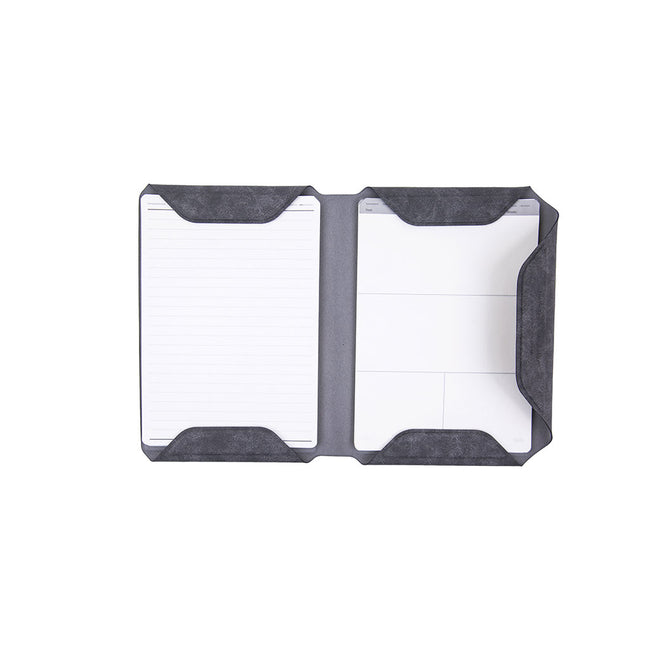 Refillable Notebook with Magnetic Clips
Stay organized and stay on track in style with the ModularNotebook|Folder| A5. This ModularNotebook is made with magnetic clips that allow you to flexibly add or subtract papers. Refill the ModularNotebook with downloadable paper Templates or standard paper. Binder-Free and made perfectly comfortable for lefties and righties. It is a versatile notebook for all occasions with endless reusability!


Endlessly reusable due to magnetic clips
The magnets are embedded into the Notebook cover, to store and protect your valuable contents and papers. By being able to keep all your important notes, eliminate the ones you don't need and constantly add new ones, you are able to keep using the NoteBook for a lifetime!

Flexible
Simply add or reduce paper according to your needs. The maximum quantity goes up to 100 pages; 50 on each side. Exchange, re-arrange and distribute your thoughts, without disrupting the flow and quality of your NoteBook.

Compatible with standard A5
The mini version can hold A5 sheets

User friendly
With its hard cover, you can make notes anywhere. Laying down on your bed, standing or while traveling. Also, because papers lie flat you get a smooth writing surface every time. You are not obstructed by a binder and can place all your writing sheets to the left/right side.
Specifications
Dimensions: L23 x W17 x H2 cm
Weight: 370g (including papers)
Material:

Skin: Blue - Polyester; Yellow, Pink, Brown & Grey - PU
Interior: Microfiber leather

Included:


60 pages divided over 3 templates (Year, Week & Lines)

6 paper clips