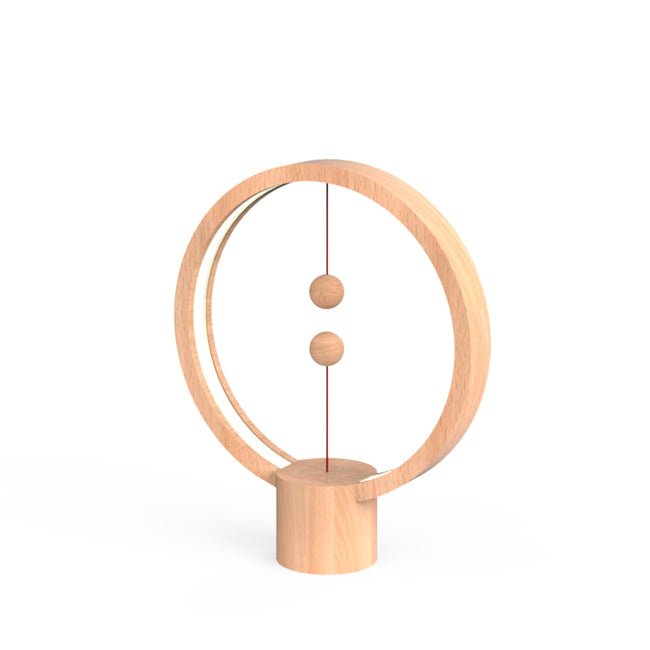 Switch, in mid-air.
Switching the light in mid-air: "Heng Balance Lamp" is a series of desk lamps with a twist: where most lamps have a standard switch the Heng Balance Lamp is controlled by two wooden balls. When you lift the lower wooden ball, it will be attracted by the hanging one and remain suspended in mid-air, switching on the light. Versatile: This creative small lamp is suitable for the study, bedroom, etc. Most types of rooms will benefit from this lamp, as besides a source of light it is also a piece of art. Design: We adopted a design where the lighting element is embedded into the frame so the light can find its way out. The gentle curve makes it easy to the eye and calming. 

INNOVATIVE MAGNETIC BALANCE LAMP
This beautiful lamp from Allocacoc is designed with a unique magnetic sphere switch. Use it as a calming nightlight for kids or adults! This lamp is a nice piece to pull together any room or workspace: use it as a beautiful office decoration or as a classy addition to your bedside table.

REDDOT AWARD-WINNING DESIGN
This clever balance lamp is a fun, interactive way to brighten a room. To illuminate the lamp, simply balance the 2 dangling spheres by attaching them together using the embedded magnets. The mid-century modern wood look adds a touch of zen wherever you need some gentle lighting.

SOPHISTICATED MINIMALIST LIGHTING
Whether you place this lamp in your home or on your work desk, this lighting adds a sophisticated and polished look to any space. Keep it in your study, on the nightstand, or on top of your dresser to display a beautiful yet functional light source. It matches well with any style of decor!

WARM LED GLOW
This light emits a soft, gentle glow bright enough to be used as a book-reading light by the bed but dim enough to make an effective nightlight. The USB power cord plugs into a wide variety of outlets and adapters. If you want to add some ambient lighting to your room, this lamp is a must.

FUN GIFT FOR MEN & WOMEN
If you're looking for a unique gift for your loved one, the Heng Balance Lamp is the perfect option. If your girlfriend is an art lover or if your dad hopes for a classy Father's Day gift for the office, this lamp is sure to brighten anyone's day. It's also a great way to tie together small spaces like dorms or studio apartments.
Specifications
Material: Wood
Input port:

 

USB

Cable Length:

 

3ft
ON/OFF switch:

 

Yes
Energy consumption: 5W
Power input:

 

1A 5V
Energy efficiency: 175lm (35lm/W)
Illumination angle:

 

120°
LED: 48x 2835 SMD LED
Lifetime:

 

20,000h
Color temperature:

 

2700 Kelvin (Warm white)
Magnet:

 

2pcs, 10x10mm, N35
Included:

 

USB cable
Others:

 

PF=1, LLMF>0.8, CRI>80
People often buy
Total price:
$156.85
$164.85
Customer Reviews
Beautiful design!
This is the second lamp I have purchased. The first one was accidentally left on for a long period of time and the heat cracked the frame. It still works but I am very careful of this and remember to shut it off after use.
12/30/2021
Logan V.

United States
Works as expected, looks good on hardwood tables.
Works as intended, slightly brighter than expected.