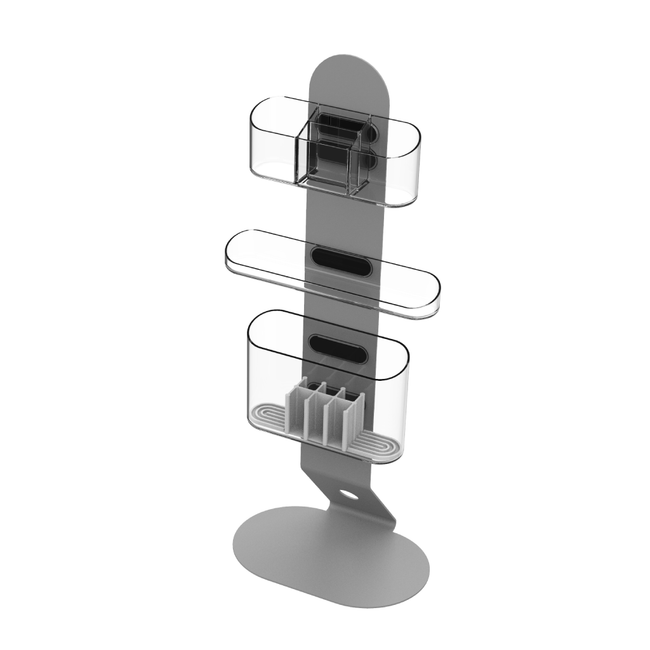 Space-saving, vertically stores your essentials. 
Vertically Store all your Essentials to Save Space
Organize all of your important belongings vertically to allow more space on your desk. This unique organizer magnetically stores your utensils and stationary upright to keep your table space clean.

Organize all cables
Use the small hole for organizing multiple cables

Make Items Magnetic with Magnetic Stickers
Stick magnetic stickers to the back of essentials to make them magnetic. These adhesive magnetic stickers allow you to attach all of your items to the MagnetOrganizer |ModularStand|. (Magnetic stickers included in box)

Various Modular Organizing Containers
Store all of your office supplies in modular organizing containers to keep all of your items neatly stored. There are three different containers that will organize your business cards, pens and stationary accordingly.

Personalize the Stand to your Desired Style
Mix and match to customize the order of the various modular organizing containers to your desired style. Combine the three different organizing containers to create your preferred design. 
Specifications
Total weight: 3.13lbs
Module 1: Size: L225mm x W50mm x H30mm, Weight: 56.5g
Module 2: Size: L165mm x W50mm x H65mm, Weight: 115g
Module 3: Size: L170mm x W50mm x H115mm, Weight: 167g
Metal stand: Size: L155mm x W220mm x H550mm, Weight: 1086g