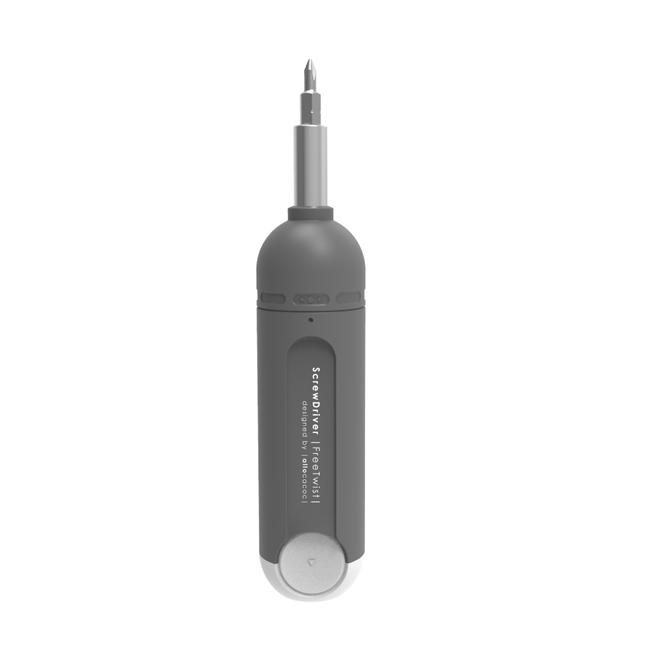 Screwdriver FreeTwist is a interchangeable multi-bit ratcheting screwdriver with 19 assorted bits and a connecting rod.
This is the one simple tool you need for a wide range of DIY tasks. Matte finishing handle for comfort grip. Bit are stored within the handle of the screwdriver. Compatible with all 4mm and 6mm bits.
19 bits in 3 types: slotted, phillips, torx
ScrewDriver has a wide selection of bits, featuring slotted, phillips and torx bits. It includes enough sizes in its body, eliminating the need for extra tools to finish multiple household standard jobs.

4mm and 6mm bit holders are included
The magnetic bit holder ensures all the bits are snug and safely attached to the ScrewDriver or quickly released for accurate use. A 4mm bit holder is included in the handle. You can easily turn a 6mm bit holder to a 4mm one. It makes the ScrewDriver a multi-purpose tool for craftsman, journeyman, DIYers, and homeowners.

Interchangeable bits
Rather than fiddling around multiple screwdrivers according to your needs, ScrewDriver features one magnetic bit holder that can magnetically hold a variety of bits. It's perfect for almost any job around the house or on-the-go.

3-Position smooth ratcheting mechanism
ScrewDriver's three-position switch allows clockwise, counterclockwise and locked ratcheting.

Ergonomically designed grip
ScrewDriver has a comfortable rubberized grip to minimize hand and wrist soreness.

Built-in bit storage for easy access, organization and transport
No loose bits and pieces. All bits are stored in the handle, making ScrewDriver easy to organize and faster to change bits. Simply bring one ScrewDriver along with you to finish all your screw-related tasks.
Specifications
Product dimensions: 36 x 36 x 158mm
Material: PC
Color: Gray
Gear ratio: 1:1
Includes:

11x 25mm bits: 3mm/5mm/6mm (Slotted); PH0/PH1/PH2/PH3 (Phillip); T10/T15/T20/T25 (Torx)
8x precision bits: 1.5mm/2.0mm/2.5mm (Slotted); PH000/PH00/PH0 (Philip); T6/T8 (Torx)