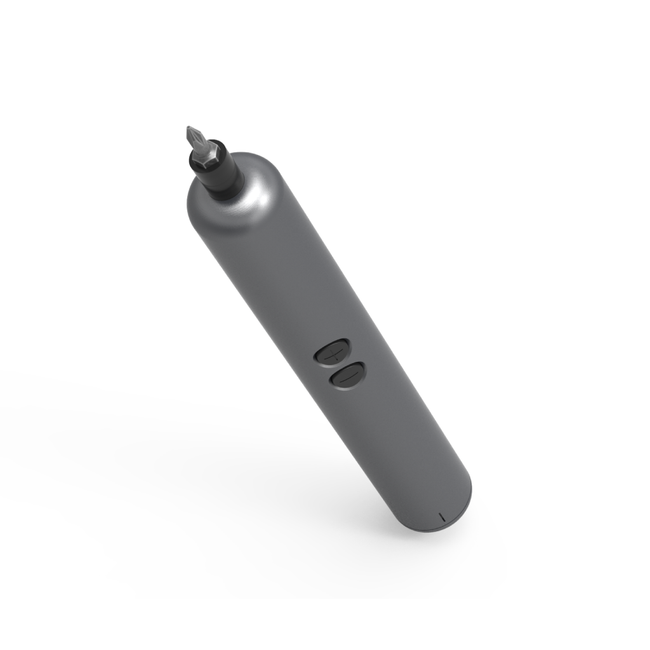 High-torque Power Electric Screwdriver with Aluminum Housing
ScrewDriver |Electric Recharge| is a stylish and durable screwdriver that can fit anywhere. It is only 193mm long and 26mm wide, making it a very slim and sleek screwdriver, compared to most bulky screwdrivers.
It has 2 modes: manual and electric. The electric mode is equipped with high-torque power to quickly screw or unscrew anything at 150r/min. The USB-C charger quickly charges the electric screwdriver in 1.5 hours to ensure a long battery life of 50+ minutes.
6mm and 4mm Compatible Bit Holders
The ScrewDriver |Electric Recharge| includes a 4mm bit holder that can magnetically insert into the 6mm bit holder, for more accuracy when drilling into very small items. Making the screwdriver a multi-purpose tool for craftsman, journeyman, DIYers, and homeowners.
Interchangeable Magnetic Screw Bits
The ScrewDriver |Electric Recharge| has a magnetic bit holder that allows you to easily switch a variety of the 19 different bits for any task. Each bit is precision machined for an exact fit, making it efficient and easy to use.
19 Bits in 3 Types: Slotted, Phillips, Torx
The ScrewDriver |Electric Recharge| has a wide selection of bits, featuring Slotted, Phillips and Torx bits. Use only one screwdriver to accommodate all standard jobs, such as Wall socket electrical outlets, light switches, eyeglasses, small electronics and DIY furniture.
Specifications
Product dimensions: 26mm*26mm*192mm
Battery cells: 18650- Li-ion battery
Bits set 25mm:

Slotted: 3mm/5mm/6mm.
Philips: PH0/PH1/PH2/PH3.
Six-angles: T10/T15/T20/T25

Charging time: 1.5h (USB-C)

Color: Gray
Material: Aluminum
Precision screw bits Slotted:

1.5mm/2.0mm/2.5mm.
Philips: PH000/PH00/PH0.
Six-angles: T6/T8
Connecting rod: 6mm-4mm

RPM: 150r/min
Torque: 1.2 N/M
Voltage: DC 3.6V
Unit net weight: 330 g