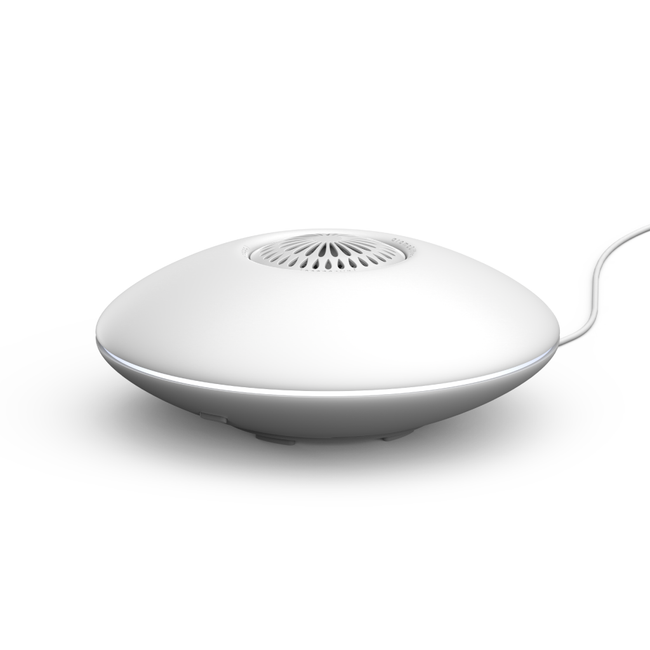 Active spreading of fragrances over a wide area
Actively spreads aromas
The aromaDiffuser has a built-in fan, what means that it will actively spread aroma's throughout a space of up to 50 square meters (540 sq. ft.). This is much more efficient than conventional aroma diffusers, which are only effective within their immediate vicinity.

Mix scents
As the aromaDiffuser can hold multiple capsules you can also combine scents, creating a unique scent tailored to you! The cost of changing the fragrances is low: the aroma pearls will retain their fragrance while continuously in use for over 200 hours.

Three different modes
There is a two daytime modes (soft and strong) and a night mode to adapt to different scenarios and preferences.

Light ring
Besides providing a pleasant ambience, the 360 degree light ring will also indicate the status of the aromaDisfuser and what mode it is in.

Capacity
The machine can hold one or two aroma capsules while retaining the same shape.

USB powered
The aromaDiffuser is USB powered, what means that you most likely have a charging cable and power source around.
Specifications
Material: ABS
Size: 15 x 15 x 5.7 cm
Input port: Micro-USB
Power input: DC 5V
Energy consumption: 1W
Fan size: 5 x 5 x 1.5 cm
Operations mode(s) - Light indicators:

White: ON
Blue: Continuous 60s ON & 60s OFF
Yellow: 60s ON & 60s OFF with 1 hour timer

Capacity (aromaDiffuser): Holds up to 2 aromaCapsules
Capacity (aromaCapsule): 5g per aromaCapsule (Last over 200 hours)
Scent coverage: 150m³
Included: 2x aromaCapsule (Pomelo Citrus), Micro-USB cable