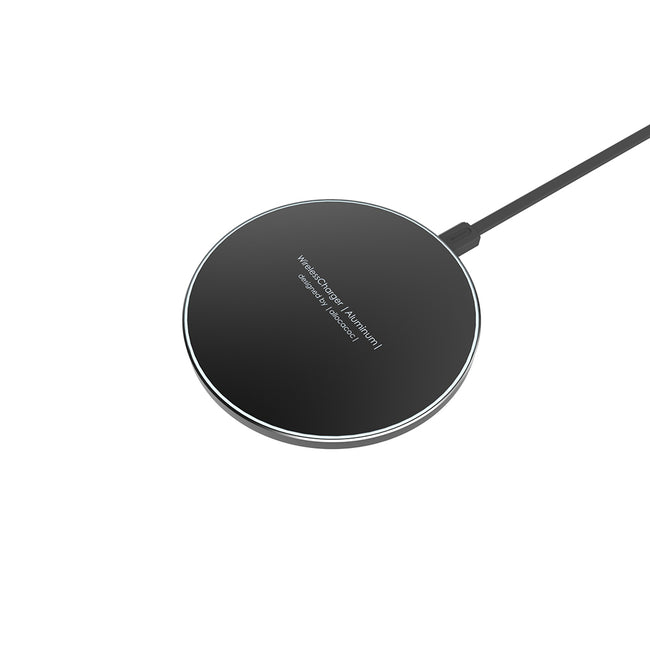 Super slim quick Wireless Charger
Wireless Charger |Aluminium| is super slim and its high-grade aluminium body gives it a nice touch and sturdy look. Equipped with 10W high-power output, it supports QC (quick charging), meaning your smartphone charges faster than with most other regular chargers. Plus, you don't have to worry about overcharging your smartphone, thanks to the overcharge protection built in this charging pad. 
Note: Your smartphone needs to support Qi functionality to be able to charge wirelessly. Special covers are also available that allow wireless charging. This charger is suitable for the following models: 
Samsung Galaxy S7/S7+, S8/S8+, S9/S9+ and newer models like S10/S10+
Apple iPhone 8 /8 Plus , iPhone X and newer models
For a full list, click here. 
Supports QuickCharging (QC)
The Wireless charger supports QC, what means that you can charge your electronics faster than with most other chargers.

A great compatibility
The Wireless charger is compatible with all mobile phones equipped with wireless charging

10W high-power output
The Wireless Charger has an output of either 5, 7.5 or 10 Watts, automatically adjusting to the most suitable setting.

Overcharge protection
When the phone is full, it automatically switches to trickle charge protection mode, protecting your battery.

High-grade aluminum body
Its qualitative aluminum body makes it pleasant to the touch and gives it a sturdy look.
Specifications
Product dimensions: ø100mm x 6.5mm
Material:

Shell: grey aluminum alloy
Charging pad: ABS (silk screen)

Input (micro-USB): DC5V/2A, 9V/2A
Output (wireless): 5W, 7.5W or 10W
Charging sensing distance: ≤8mm
Protection: Over-current protection, Over-voltage protection, Over-temperature protection, Over-power protection, Under-voltage protection, Short-circuit protection, Electromagnetic field protection, Over- charge protection, Foreign object detection