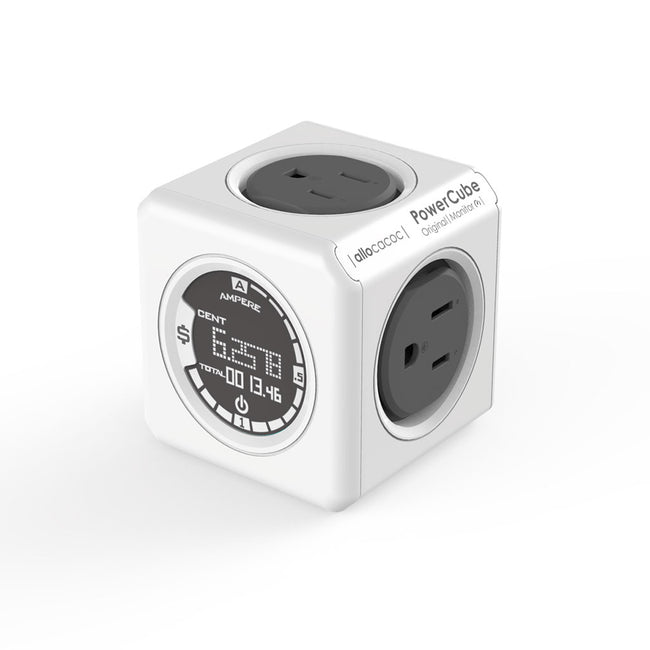 Real-Time Electricity Monitor Plug Without Blockage
Save energy, be happy. The PowerCube |Monitor| shows energy consumption readings in real-time. Easily view the usage of running electricity and energy costs for plugged in appliances. Easily connect all your devices at once with 4 power outlets. PowerCube, the reddot award 2014 winner, is intelligently designed to be an instant space-saver. No plug blockage.
Specifications
Socket Type:

Type B

Number of Outlets:

4

Rated AC:

15A/125V~

Grounded:

Yes

Child Proof:

Yes

Resettable Fuse:

yes

Screen Type:

LCD

Screen Size:

∅39mm

In the Box:

1PowerCube Original|Monitor|, Manual
*High-current/Voltage devices such as space heaters, microwaves, toasters, ovens, and pumps are not intended to be plugged into PowerCube
Customer Reviews
Very inconsistent experience
Ordered a travel set and a monitor. Received that and a USB changer I do not need. Monitor functions are meh. Can not set energy rates. The screen is horrible and responds inconsistently. Emailed DesignNest with a fuse support question and about the unneeded device return. never heard back.
11/09/2019
Ryan H.

United States
Good product
Good product, provides cool info.
11/06/2019
Shaun H.

United States
Cooool!
I liked it but i blew the fuse on it a couple days ago by pluging a space heater into it. I went to take it apart to replace the fuse but didn't have the right screw bit. I cried because I was really sad my Allocacoc Powecube would have to be out of commission until i get the tight tool to repair it.
11/06/2019
Kelsey S.

United States
Short and sweet
I did enjoy this product when I first received it. It helped me see how much energy different appliances were using which helped me drop my energy bill. I'm one of the top ten energy efficient people in my neighborhood and I want to work my way yo number one!! After having this product for just a few months/ it still displays a reading but will not transfer energy to my appliances any longer. I'm glad I got this product for free through another company or I'd be very upset about this
11/02/2019
Aviv S.

United States
Does not work
At first it worked, then the second time I used it, it stopped working. All of the ports don't work anymore.