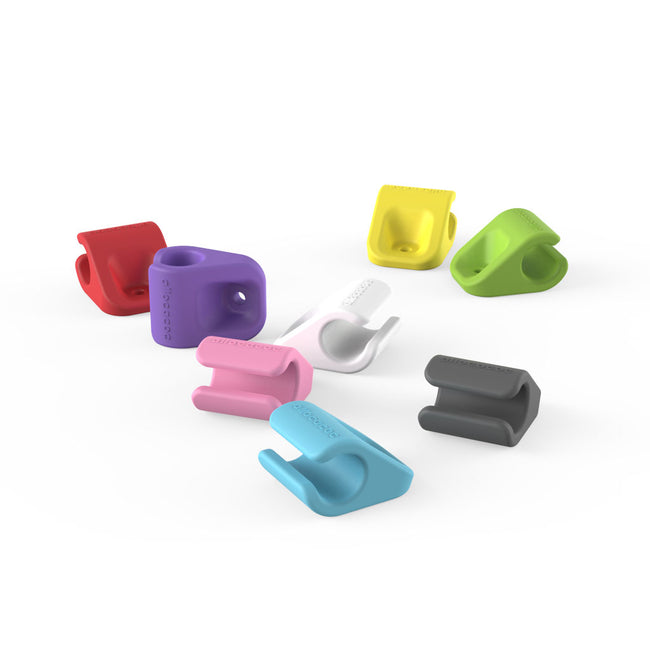 This good-looking screw mount CableFix routes your cables exactly the way you want them and is compatible with a range of cable sizes from Ø4 - 10 mm and a screw mount. They can be mounted onto any flat surface with its re-usable sticky pad (wipe it with a damp cloth to regain its stickiness and mount the CableFixes in another place). Alternatively, mount onto uneven surfaces with screws or nails. Organize your cables and stay away from the mess!
Simple design
Its simple design and lovely shape make it easy to direct and route your cables.

Versatile
The Cable Fix can easily be adhered to desks, walls, or any other flat surface, enabling you to route your cables exactly you want them.

Adapts to your needs
The CableFix is compatible with different cable sizes(Φ4-10mm), enabling you more flexibility.

Ease of use
Peel off the protective sheet and stick the CableFix anywhere you like. As the tape is reusable, you can do this again. And again. If it looses its stickiness you can simply wipe it clean with a damp cloth.

Mounting hole
A hole for screws and nails is provided, enabling you to also mount the CableFix on surfaces where the sticky pad is not desirable or possible, like e.g. rounded surfaces.
Specifications
Material: TPU
Compatible with: Cable sizes of Φ4-10mm
Included: 8 pcs of Sticky-pads
CableFix: 8 pcs
Colors: White, Red, Yellow, Green, Gray, Purple, Light Blue, Black, Assorted